About Us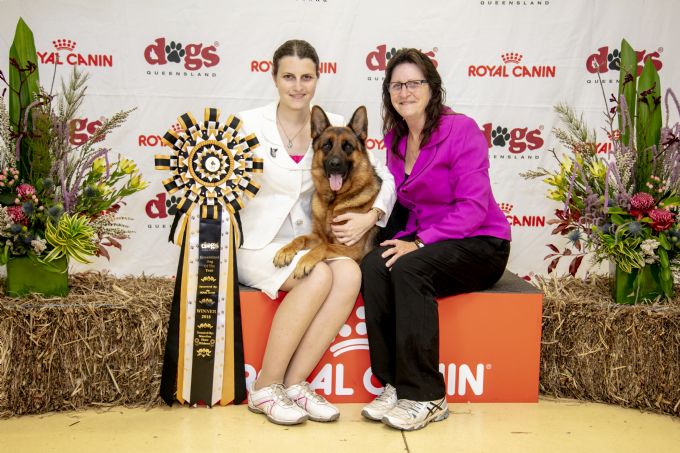 Welcome to the website of Karham German Shepherds

The love of German Shepherds started way back, when Michelle was a little girl with her family always having German Shepherds as family pets. Michelle's mother, Nancy Hardie, decided to start showing the breed and bought a lovely bitch for that purpose. Through her mother's love of showing, Michelle showed a very keen interest in the hobby and began handling German Shepherds at the age of 12 years. But it wasn't until January 1985, that she finally had her own dog called "Ch. Imege Rjays Boy" aka "Huggy" who was a double Huggybear grandson being "Fairycross Royal Salute". A few years later, she bought a bitch called "Imege Werra" aka "Nina", who achieved her first Best In Show at just 14 months of age. It was through this bitch that Karham German Shepherds evolved.

That is the past of Karham, now onto the Karham today.

Our human family consists of Brett, Michelle, Karleigh, Nicole & Brett. Karleigh, Nicole and Brett were all involved in the Junior Showmanship Competition.

In 1998, "Ch. Karham Claimin Fame 'A''Z'" aka Skye was born and became a multi Best in Show winner. Skye was also the Qld Puppy of the Year zone 3 Winner in 1998 and she also won Puppy of Breed at the Brisbane Royal in 1999.

Then in 2001, Skye gave birth to the truly amazing "Grand Champion Karham Destinys Child 'A''Z'" also known as Keisha. Keisha has exceeded all expectations anyone would ever want in a show dog. She is Australia's youngest Grand Champion Bitch for the breed which many people find hard to come to terms with, as such an achievement and being a bitch to do so, is no easy feat. Keisha won 29 Best In Show and 16 R/U Best In Show awards.

In 2007 we attended the Brisbane Royal with Keisha, under a Canadian judge. Keisha was awarded Runner-Up in Group and Best Opposite Sex in Group. This is the best a German Shepherd has done at the Brisbane Royal for 14 years. Keisha's pedigree combines the 'old' English lines which are very rarely seen in any pedigree today, with the current German lines at that time. In September 2009 saw the passing of our beloved Keisha. She certainly made her mark and will never be forgotten by so many people throughout Australia.

In March 2008 we purchased "Sunhaze Korona" 'Korey' from Sunhaze German Shepherds in NSW. Little did we know just how lucky we were! Whilst with his breeders in NSW, Korey was a Specialty Class Winner and was never shown in the All Breeds ring until his debut with Karham in April 2008. Korey has done amazingly well in the all breeds ring. He broke our own Keisha's record to become Australia's Youngest Grand Champion for the Breed, he is a Multi Best Exhibit and Runner-Up Best Exhibit in Show winner along with many other notable wins along the way.

Karham has bred the Qld Puppy of the Year zone 3 Winners in 1998 and 2001, with a mother/daughter team, again the only kennel or breed to do this. Karham bred the North Qld Dog of the Year winner in 2005 being Grand Ch Karham Destinys Child 'A''Z'. Karham lines are behind many top award winners which goes to show the quality of dogs that are produced within the lines. Karham only breed minimal litters each year as we only breed when we want to keep something ourselves. Our puppies are only sold to loving homes to be well loved family members.

All Karham dogs are conditioned on Royal Canin which keeps them in absolute top show condition all year round. Our current show dogs are always the most consistant winners within breed, group and in show level in Queensland. This proves that we breed quality sound German Shepherds with exceptional temperaments which is the envy of many German Shepherd owners/breeders.
Karham German Shepherds are proud Royal Canin Ambassadors
Contact Details
Karham GSD's - Brett & Nicole Hammond
Toowoomba, QLD, Australia
Email :
[email protected]